IMPORTANT INFORMATION
10 September 2012
Delegates are kindly requested to note that the deadline for booking rooms
at the Radisson Blu Hotel, Bucharest was 5 September 2012.
As per their Cancellation Policy (see form, here) the Hotel states:
"Kindly advise us of any changes or cancellation in the reservation before 12th of September
2012 to avoid any charges. Cancellations after 12th of September 2012 will be charged as 100% for one night,
room and applicable taxes."
About the Hotel
The Radisson Blu Hotel Bucharest is located in the city center, business and shopping area. In the vicinity there are tourist and historical attractions.
The Hotel features 718 guest rooms, each incorporating a sleek, modern look composed by world-renowned architect Uri Blumenthal and interior designer Buki Zuker. The rooms offer views of the hotel's landscaped garden or the historic Calea Victoriei. All rooms have high-quality amenities such as free high-speed Internet access, an LCD television and quality bath products.

Radisson Blu Standard Room
Decorated in warm brown and beige tones, Standard Rooms blend leisure with sophistication to create an atmosphere of pure relaxation. With views of the nearby landscaped garden, each Standard Room offers modern amenities and relaxing surroundings. Twin, queen-sized and king-sized beds are available in Standard Rooms.

Approximate size: 23 m2
Maximum number of guests: 2 adults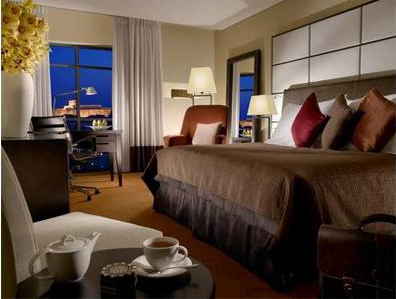 Negociated room rates
By booking before 5 September 2012, OIML Delegates could benefit from the special negociated Standard Room rate of 110 € (single) or 125 € (double) per night. This rate includes taxes, VAT and breakfast. There are also a limited number of "Bedroom Residence ApartHotel" (4*) rooms in an annex to the hotel (on the same site but not in the main hotel building); the rate for these rooms is 95 € including taxes, VAT and breakfast. Please note that availability of the "Bedroom Residence ApartHotel" rooms cannot be guaranteed as only 20 rooms of this type are available.
All individual guests are responsible for booking their own rooms, and for settling their own accounts on the day of departure by cash or credit card. Personal cheques will not be accepted. On arrival a pre-authorization will be taken on the client's credit card.
IMPORTANT:
Delegates should please make their room reservations
by filling in the form below and returning it directly to the Radisson Blu Hotel
by e-mail or by fax
(a credit card will be required).